Outdoor Christmas Lights Safety Tips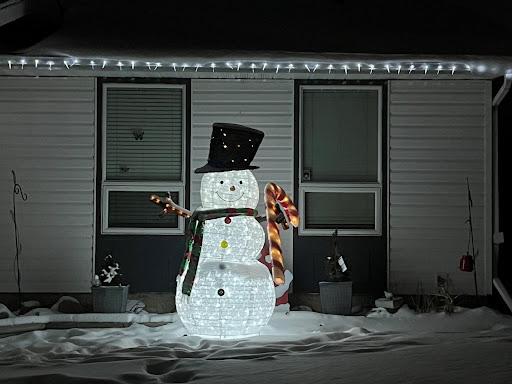 Guest article provided by: exechomeinspection.com 
As the holidays approach, many of us are getting our homes ready for entertaining. Part of that preparation includes stringing up outdoor Christmas lights. While they may add a festive touch to your home, it's important to be safe when using them. Here are some outdoor Christmas light tips to help you stay safe while enjoying your holiday lights.
Inspect and test your lights before putting them up
Inspecting and testing your outdoor lights can make all the difference in how safely and effectively they operate. Before putting up your strings of lights, it's essential to take a few precautionary steps. Look for frayed wires, burned out bulbs, and broken bulbs. If you find any, it's important to replace the string or single bulb immediately to avoid potential safety hazards. Not only is this crucial for avoiding electrical short circuits or fire hazards, but also ensures that any decorative lighting display looks its very best when lit up once it's fully installed. Make sure they are working properly before hanging lights can save you time and grief. Therefore, taking the extra time to inspect your decorations before putting them up this holiday season will help ensure you create a dazzling lighting display while keeping your family safe during the festive period.
Use only lights that are rated for outdoor use
While indoor lights may be attractive and cheaper, using lights that are specifically rated for outdoor use is a must! Outdoor-rated lights will be made with durable materials to withstand wind, rain, and extreme temperatures. The fixtures are also sealed to keep water out so they don't short-circuit when exposed to wet conditions. So remember there is a difference between indoor and outdoor lights. Do not use indoor lights, make sure you install only lighting suited for outdoor use! FYI: most outdoor lighting is now made with led lights, and incandescent lights are no longer as popular.
Plug your lights into GFCI outlets
GFCI, or Ground Fault Circuit Interrupter, is a must-have for any home, as they provide an important layer of protection for you and your family. GFCIs will detect any unusual electricity flow in a circuit and shut off the power if there's a risk of shock. Thus, GFCI outlets provide a much safer option than regular outlets when plugging in your lights. Plug all your lights into GFCI outlets and you can go rest easy knowing your home is equipped with this critical safety feature.
Keep your extension cords away from water sources
Water and electricity don't mix! Not only can exposing an extension cord to a gutter full of wet leaves and debris wear down its insulation, but you also risk being electrocuted if water seeps into the circuit. To be safe, always make sure the extension cords outside of your home are not in any rain gutters.
Use timers for your Outdoor Christmas lights
Sprucing up your home for the holidays is always a joyful experience, especially when it comes to outdoor Christmas lights. To get even more enjoyment (and time savings) out of your display, consider using timers for your Christmas lights. With one easy setup and simple programming, you can have your holiday lights go on and off at predetermined times while you focus on all the other holiday preparations! This is the perfect way to get fully into the festive spirit this season with your holiday decorations!
Attach Christmas Lights Securely
The holiday season is a magical time of year, and Christmas lights are often part of the fun! Unfortunately, if they're strung up carelessly, they can become extremely dangerous. To keep your family and home safe this festive season, it's important to secure your Christmas lights properly. Make sure to secure outdoor lights with the right types of hooks and fasteners so they don't come loose in strong wind. With some extra precautionary measures taken, you can be sure to have a jolly and accident-free holiday season!
By following these simple Christmas light safety tips, you can ensure that your outdoor lights are safe and effective. Properly maintained lights will not only last longer, but they will also be safer for you and your family.
For more information about home maintenance, click here
---