What is a doula? And why would anyone want to have one?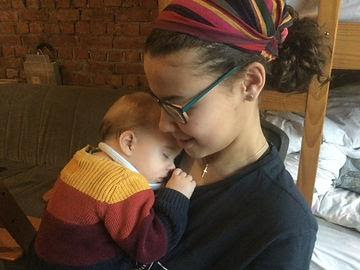 Guest article provided by: daisy-doula.com
Hi, I am Daisy June White, and I'm a birth and postnatal doula living in Cornwall, UK. I'm going to explain to you what a doula is, why I became a doula, and what the benefits of having a doula are. 
What is a doula?
A doula is a woman who helps and supports another woman who is pregnant or has recently had a baby. A doula can be a great blessing and service, and also a friend.
A good doula should be caring, kind, punctual, respectful, a good listener, reliable, friendly, and able to keep calm in stressful situations….
Doulas offer three types of support: emotional, practical and informational.
An example of the emotional support that doulas offer could be listening to the mother, sitting with her, reassuring touch, words of affirmation, discussing plans for the birth etc..
An example of practical doula support could be help with household jobs, babysitting, cooking, accompanying the mother to appointments or groups etc..
An example of informational doula support could be if the mother has questions about something to do with childbearing, the doula can signpost certain books or online resources that would be helpful to the mother's understanding of the topic. Or the doula may reach out to her doula network and find out from other fellow doulas what their knowledge is on the subject.
There are two different types of doulas. A birth doula supports a mother during pregnancy and birth, while a postnatal doula supports new mothers and families during the weeks after their baby has arrived.
My reasons for becoming a doula
I became a doula because I just love mums and babies! Family is so precious and it must be supported. I'm also passionate about helping people and I want to be a blessing. I also like the fact that I can be self-employed as a doula, and don't have to work within a large healthcare system.

My personal experience of having 6 younger siblings really help my work as a doula, since I am familiar with young children and babies. I have also been home schooled, so doing practical jobs around the house and helping my mum are second nature to me. I can cook and bake, wash up, clean and I took care of the laundry for my whole family from the age of 12. 
Another factor of my doula support is my faith. My upbringing was Christian and Jesus is the Lord of my life, so I believe I can bless women spiritually in a special way and bring peace and help in their situations if they are comfortable with that.
What are the benefits of having a doula?
There is evidence to show that having a doula can mean:
Reduced risk of Caesarean birth
Reduced risk of instrumental birth
Reduced need for painkillers or epidural during birth
Reduced rate of induction of labour
Increased parental satisfaction with the birth experience
Increased likelihood of initiating breastfeeding
Increased likelihood of successfully establishing breastfeeding & breastfeeding at 6 weeks
Lower incidence of depressive symptomatology

Improve equity and provide culturally responsive care

Information from Doula UK – The UK's biggest doula directory and charity
Doulaing is such a rich way of working and blessing mothers and families! It's a wonderful calling.
---